Field House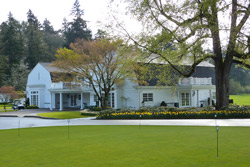 Waverley's Field House offers members the services and amenities necessary to compliment their golf game. Merchandise, lessons, tournament sign-up information and attentive service welcome Waverley members. Waverley's Bag staff serves our members daily, ensuring clubs are readily available and clean each and every time our members visit their course. The entire professional staff welcomes the opportunity to outfit our members, teach the technical aspects of the golf swing, or the mental preparation necessary to excel at golf. Waverley members are encouraged to visit the shop and the staff often and always when enjoying Waverley Country Club.
Practice & Teaching Facility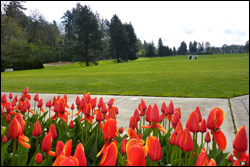 Waverley Country Club is fortunate to offer its members one of the best pieces of property on which to practice in the Northwest. In the early 1900's, Polo was popular with Waverley members. This prompted use of the land south of the Field House for that purpose. Bunkers were filled in on what was once the original 5th hole to provide an appropriately groomed space for playing polo. The current practice range takes full advantage of this area that was once torn up by hoof and stick. The horse barns, which at one time were located at the South end of the range, now offer members a space to fine tune their short game in relative seclusion. The practice facility allows members the opportunity to hit out of groomed practice bunkers and chip onto manicured practice greens. Any of Waverley's Golf Professional staff will welcome the opportunity to assist our members in all aspects of the game.
Come check out the Teaching Room, which houses state-of-the-art technology such as FlightScope, as well as golf swing training aids. Use the room, when available, as a warm up prior to a round of golf or as a space to practice when the weather outside isn't cooperating. Flightscope, the world's first ever 3D Doppler tracking golf radar is a state-of-the-art portable indoor/outdoor golf radar, which is used for ball flight and club monitoring. FlightScope is also used as a training aid and for personal practice by tour professionals and other golfers devoted to game improvement.
Junior Clubhouse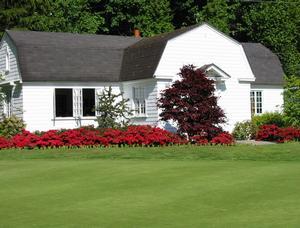 Originally known as the "Trolley House" this historic structure harkens back to the "Riverside Links" and Golf Junction. Waverley's Junior Clubhouse was a stop along the Interurban Ardgour rail line. The back of the facility still has the double doors that allowed riders to wait in relative comfort. Today the Junior Clubhouse serves nearly the same purpose. Juniors often wait in relative comfort as the rain falls or wait for parents to pick them up after an afternoon of golf. The Golf Professional staff utilizes this facility for junior camps and clinics as juniors entertain themselves with siblings and friends. This historic structure is one more example of the rich and wonderful history that surrounds the Waverley campus.