Waverley is more than just a celebrated golf course. Its facilities, activities, and programs offer enjoyment for everyone who is a part of the Waverley community. Golf is the common activity, be it a solitary round, or a leisurely family outing on a tranquil evening. Unlike today's busy golf course culture at other clubs, Waverley is never overcrowded. Averaging 15,000 fewer rounds played than other private courses in Oregon, your time at Waverley is truly a private golf course experience. Waverley's no tee time culture allows members to form their foursomes on the first tee and to enlarge their circle of friends. The Saturday Morning open play for all members, gives new members a chance join in a game with some of the club's Saturday golfers. Waverley also provides competitive golf tournaments including the men's and women's club championships, The historic Blyth tournament, spring and summer stags, New Member tournament, Invitational tournaments for men, women, and seniors, the Husband-Wife tournament, and Member-Guests events throughout the summer season. Each Wednesday night during the summer, the popular "hit and giggle" event provides the opportunity to pair with another member or guest couple, to enjoy Waverley's golf course.
Our club's active caddy program harkens back to early golf traditions. Today, Waverley has the finest caddy program, supported by its members and appreciated by those that enjoy the service. Throughout the years, Waverley has produced numerous Evans Scholars. This achievement is based upon excellent high school academics, a minimum of two years commitment to the caddying program, and must be outstanding in character, integrity, and leadership.
Waverley women enjoy an active calendar for both golf and social events. Waverley's active nine hole and eighteen hole women's golf groups offer members the chance to mix and match with new and existing friends. The women's organization hosts socials, fashion shows, luncheons, and seasonal events. What you will enjoy most about your time at Waverley are the fellow members whose friendship lasts a lifetime.
There is no finer place than Waverley to raise your children or grandchildren. Waverley offers a junior golf program structured to enable our staff of golf professionals to spend significant one-on-one time with junior golfers. A short course on the practice range helps the youngest golfers while Waverley's links challenge the more experienced junior golfer. After golf, most juniors head straight to the pool. Waverley's staff of certified lifeguards provide swimming lessons to all juniors. If your not quite ready to jump in the pool, Waverley's riverside tennis court offers members and juniors the opportunity to take lessons or join one of the clinics that will be available through our Tennis Pro.

The beautiful Willamette River offers a one of a kind view for your dining experience. During the luxurious summer months, Waverley offers first class lunch and dinner riverside. This experience allows for you to kick your shoes off, relax in the sun, and enjoy grass underfoot dining. It is truly unlike any other place. Waverley provides its members a unique and memorable family experience.
Holiday parties and family dining events are numerous throughout the year. Though the clubhouse is jacket required, children can wear a sweater or collared shirt. For juniors, the elegant and friendly environment offers experiences they will remember throughout their life. Waverley's traditions and family values are a repast from today's fast-paced lifestyle. This environment offers families the experience of a courteous, gracious and highly successful culture. Holiday events throughout the year are numerous and include Easter and Mother's Day Buffets and many more. Cookouts happen throughout the season overlooking Waverley's beautiful vistas and include Father's Day, Memorial Day, Labor Day and other events throughout summer. The Fourth of July fireworks and riverside dinner and festivities are the member's favorite way to spend the holiday. Each holiday abounds with opportunities to enjoy your club. Families will enjoy a host of events throughout the year that involve children and grandchildren. The annual Children's Halloween and Christmas parties are always a huge success. Sunday family dinner buffets invite families to dine in the Main Dining Room with a relaxed dress code while meeting other Waverley families.
No other club in the Pacific Northwest combines the level of excellent facilities, breathtaking environment and first class activities. Having settled in 1896, Waverley's property is the premier spot for members and their families to enjoy time together. A caring and dedicated staff looks to every detail to ensure a continuance of the reputation Waverley has established over the past century.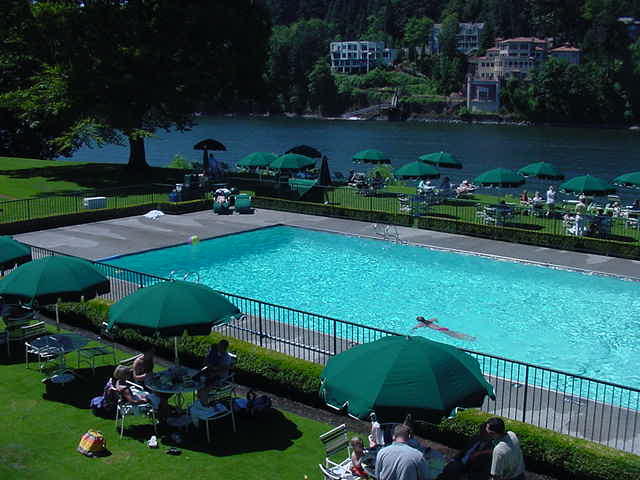 Unique, special and different. These words perfectly describe the setting Waverley's outstanding pool facility offers members, their family and their guests. Crystal clear water and attentive caring staff make an afternoon or evening at your Club extra special. Nestled between the pool facility and the Willamette River, Waverley's West lawn offers members lunch and dinner service with grass underfoot, warm afternoons and long, beautiful sunsets. Second only to Waverley's Main Dining Room, there is not a more beautiful setting to dine and enjoy the camaraderie of fellow members in the Portland area. Many would say even far beyond. What are you waiting for?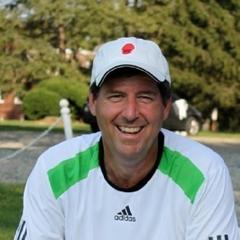 Craig Koessler is returning for his second season as Waverley's Tennis Professional. In his 30+ years as a tennis professional, he has taught at commercial clubs, country clubs, recreation facilities, and resorts. Craig hails from Tacoma, Washington, where he attended Pacific Lutheran University as an All-Conference, All-District player and four-time competitor in the NAIA National Championships. He served six years as President of the USPTA Pacific Northwest Division in the mid-90s where he was named Professional of the Year in 1996. While he enjoys coaching juniors and sharing the fun of tennis with the next generation of players, he is also versatile enough to coach adult players at the beginning stages of their careers up to an advanced level. When not teaching tennis, he enjoys time with family, traveling to compete in tournaments, and playing golf.
You may contact Craig to arrange private and group tennis lessons by phone 503-577-3583, or email craigkoessler@gmail.com.

Tennis attire for men and juniors - shall consist of a shirt with sleeves and collar or crew neck and tennis shorts. Tennis shoes are required; black soled running shoes are not permitted. Caps may be worn with the brim facing forward. Tennis attire is permitted in the Grille.
Tennis attire for women and juniors - shall consist of a skirt or tennis dresses with straps and may be sleeveless or collarless. Skirts must be tennis skirts. Tennis shoes are required; black soled running shoes are not permitted. Caps may be worn with the brim facing forward. Tennis attire is permitted in the Grille.
Waverley's Wine Cellar & Program is recognized in the club industry as truly exemplary. Recently honored by the Club Managers Association of America's International Wine Society with the "Award of Distinction", the program was one of twenty eight Clubs in America to receive this merit. The "Award of Distinction" is the Society's highest level of recognition, reviewing 6,500 private clubs nationally.
The wine program consists of three temperature controlled wine rooms that house over 5,000 bottles...one of which is the Member's Cellar. Providing over 18 wines by the glass and offering nearly 500 different labels of wines on the list, Waverley can provide its members a unique experience every time they come out to the Club.

Recipient of the 2009, 2010, 2011, 2012, 2013, 2014 & 2015
Club Managers International Wine Society
"AWARD OF DISTINCTION"